Nova 1/2 (C64, 1993/1994)
Nova is a logic game from 1993, which I designed and implemented completely on my own.
With the successor Nova 2, completed in 1994, the team was much bigger. Managing the development of Nova 2 was my first team experience- our game team consisted out of two musicians, two graphic artists, three level designers and one programmer (me), putting all the pieces together.
Both Nova 1 and Nova 2 were sold to CP Verlag (Nova 2 for a much larger sum than Nova 1), in 1993 and 1994.
Somebody put a walkthrough on Youtube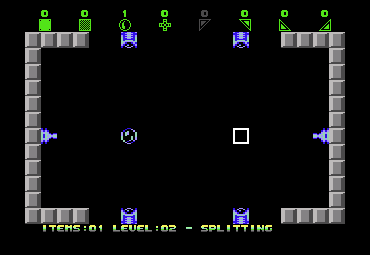 Interestingly enough, it seems the game principle was copied and adapted a lot since then:
Laser Frenzy
laser.swf
Laser Logic
Refracted Light
Aargon Deluxe
There's even an iPhone game similar to Nova (called "Lumen").
I even came across a board game, released in 2006, which features a very similar principle.